Chances are you've been stumbled upon an FAQ page while visiting an organization's website. You may have noticed that it had very minimal content and it was likely on its own separate page or section apart from the rest of the content on the site.
Unfortunately, FAQ libraries are far too often pushed to the side or forgotten about. However, if they're implemented effectively they can dramatically boost a site's SEO ranking while also bolstering purchasing confidence in site visitors.
The importance of a FAQ library
The goal of most businesses is to ultimately attract more visitors to their site, but they're often bogged down by their day-to-day job responsibilities and run out of time to focus on ways to boost site traffic.
"Even those [businesses] who actually have, let's call it a starter set, of answers to questions they think customers and prospects may have. It can easily seem like an overwhelming effort and a distraction to put the time and creativity into building a robust FAQ library."
These businesses often perceive SEO ranking through keyword bidding and link building as the best way to drive traffic to their site, but often overlook the importance of frequently generating new content.
"Many SEO experts and prominent marketing professionals mention content…current, in-depth content as being the number one, most important contributor to a website's ranking."
Building an FAQ library is a great way to continuously create content that is relevant to site visitors and help solve their questions and fulfill their search needs. 
To generate a strong FAQ library, businesses must be aware of common questions that current and potential customers have. Finding out what these questions are can be a challenging task which is why the online chat tool is helpful.
Online chat allows businesses to record the exact words and phrases that customers type into the chat so that they're able to easily provide users with the solutions they're searching for. Also, the questions asked in the online chat most likely reflect what the site visitor typed into their search engine, which is very helpful for SEO!
"If a business captures the exact phrases that their audience uses on search engines, then they can more easily identify the right content to create and build a library that will bolster their ranking on popular search engines."
A real-life example
To get a better understanding of how your business could benefit from an FAQ library, let's look at the example of River Pools and Spas located not too far from our office in Richmond, VA.
River Pools and Spas was on the brink of bankruptcy when they began creating what is now a massive FAQ Learning Center. By creating a huge library articles to answer potential and current customer questions, they were able to become the most visited in-ground pool website in the world. You can view River Pools and Spas FAQ Learning Center at riverpoolsandspas.com.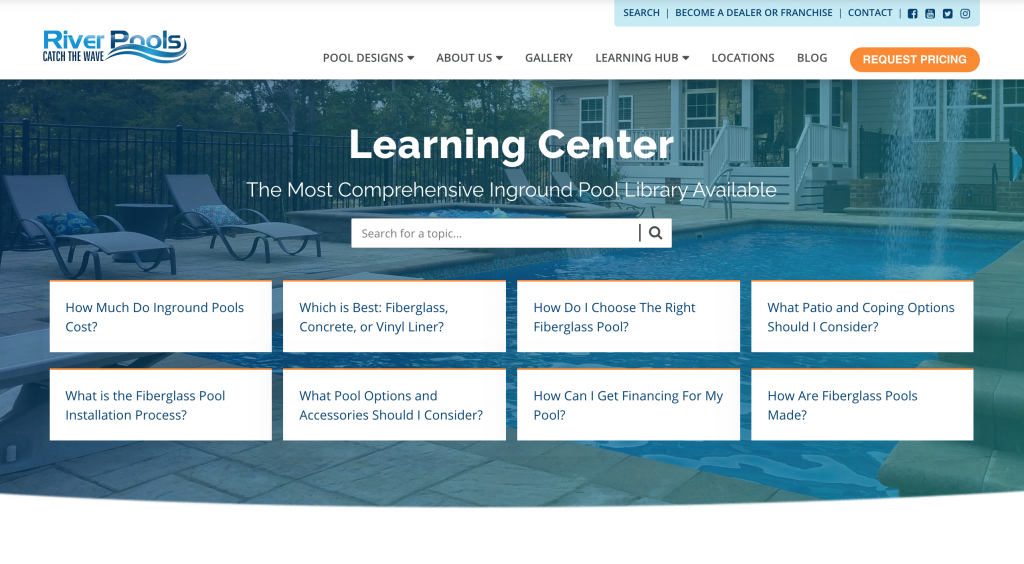 We understand that creating a massive library of articles is time consuming and far from easy, which is why we would like to help! We specialize in helping our clients experience more from their online presence and are able to help relieve the creative burden so that in most cases businesses only have to provide the correct answers to the frequently asked questions and we handle the rest.
Revizzy can help you explore whether building a comprehensive FAQ library is the right approach for you and the steps it would take to create it.
Got a question about building a FAQ library?
Chat us online, email us at betterwebsites@revizzy.com, or use the comment area below to run your question by us.