"Tell me the facts, and I"ll learn. Tell me the truth, and I'll believe. But tell me a story, and it will live in my heart forever."

— North American Proverb
Data can help your customers love you more
That's right… as you identify from existing and newly collected data where, how, and why their business is perceived by customers, employees, and/or the media as delivering excellence… and, conversely, where that's not happening… you are able to improve the overall experience and your customers will love ya for it.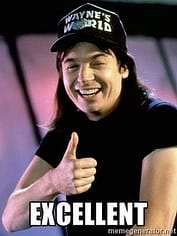 You may have received ratings and reviews online and possibly even some customer experience scores/surveys in the past. But, you may not have an established process and toolset for collecting, grading, categorizing, and reporting such data to act on for intentional improvement of consistent excellence.
The data-driven road to excellence
If you are not completely satisfied with the quality and consistency of excellence experienced by your customers, perhaps your organization culturally values and professes excellence in marketing and operational output but may not be fully aware of all measurable factors that contribute to and/or detract from the delivery of excellence to customers.
However, if you implement tools and methods to increase your awareness of why, when, how, and where excellence is and is not experienced by customers, you can then move to empower the team with the ability to replicate and build upon positive contributors and to address and reduce negative detractors.
Start with 1-3 consistent measures of excellence to create the operational habits necessary to support such data collection and utilization at a larger scale across more areas of the customer experience. Below are more specific steps you can take.
Take action!
You can test a data-driven approach to excellence. First, identify three key areas of product or service delivery that customers should experience excellence. Second, locate in ratings, reviews, emails, etc. what customers are saying about those three areas and extract the portions that can be measured such as emotive words, specific request phrases, and general mood of the comment. Third, create a spreadsheet to collect, categorize, and tally the extracted measures. Finally, pilot a few ways to nurture an experience of excellence, record the evidence during the tests, and review the results.
Build upon the success of a pilot program by expanding to the complete, constant measurement of customer ratings, reviews, product returns, repurchases, terminations, or any other data element that reflects the delivery of excellence. Establish a process for integrating new data to the tool, periodic evaluation of the accuracy of data input and output, and the necessary reporting or live dashboard views you and your team require to know in real-time how well excellence is being perceived.
And, if you lack the resources of personnel, time, and/or attention to creating the methods of collecting customer experience data and want help doing so, you can request a customer experience data audit by Revizzy.
"Don't show up to prove, show up to improve."

— Simon Sinek