Today's Daily Data – Mon. Dec. 14, 2020
Don't shy away from podcasts. We know it can be an intimidating medium to break into, but once you're there, it's a great way to connect with your audience and share valuable information about your business/industry. Podcasts are a great marketing tool because it allows you to share your expertise and highlight your skills without being too "salesy" or pushy. They make for great evergreen content that can provide listeners with a lot of value.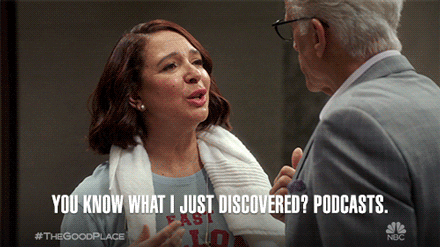 There are many ways that you can use the podcasting medium, from a scripted solo production to a casual conversation with a friend. The podcast format that you choose will directly affect the type of listeners you attract, which is why it's important to choose a format that will suit your desired audience's needs and preferences. When choosing a podcast format it's important to keep in mind what kind of content you want to produce and how you'd like to create that content. Here's a look at three of the most common podcast formats!
Solo Podcast – It's just you and the mic for this format. This podcast format is great if you're an expert in your field/topic of focus. The solo format helps establish you as an authority in your industry.

Pros: set up is simple, you can build a strong connection with your audience (speaking directly to them), and you don't have anyone else's schedule to factor in which allows you to record when and where you want and take as much time editing as you need.
Cons: It's difficult to continue talking by yourself for an extended period of time, it's easier to go off on tangents and get sidetracked, and planning is entirely in your hands for each episode.
Co-hosted Podcast – This format involves two people having a conversation together. Both of the individuals are hosts and typically have good chemistry. Both hosts have specific roles in the conversation to keep it balanced and moving at a steady pace.

Pros: Can be a very popular format if the hosts have good chemistry, planning and prep are often split between hosts, and the conversation is typically more organic and less scripted which makes it easy for fans to listen to and feel connected.
Cons: It's more difficult editing two or more voices than one, choosing topics can be more difficult because both hosts need to be equally confident on the subject matter, and you can't do as much scripting to prepare because each episode relies on a conversation.
Interview Podcast – This format involves a host (or hosts) who interview a new guest each episode who brings unique expertise to the show. This host asks questions to guide the conversation and the guest provides insight and answers. This format is a great option for those who want to host a podcast that isn't focused on one specific topic every episode.

Pros: Your guest does most of the talking and you steer the conversation, you gain access to a variety of opinions and perspectives, and the audience is typically less critical of "ums, ahs, and likes" because it's part of natural conversation.
Cons: This format is very popular so it can be hard for your podcast to stand out, it takes time and practice to master your interview skills and get comfortable in that position, and finding qualified/relevant guests can sometimes be a challenge.