"Action is the foundational key to all success."

— Pablo Picasso
What you don't know can hurt help you!
You already know you need data to perform your job of servicing your customers.
Order details, prospect contact info, inventory status, etc. All are obvious data elements needed for everyday operations.
But, have you ever dug deeper into the data to unearth the not-so-obvious metrics that may reveal untapped markets, game-changing product innovations, optimal upsell/cross-sell offers, and incentives that increase repeat purchasing and referrals?
Too often, business leaders too quickly resort to throwing hard-earned money at external marketing initiatives to grow their business when untapped potential of greater growth with far-better ROI is within reach.
For example, neighborhoods of houses built at roughly the same time are going to experience maintenance issues at roughly the same time. Nearly in sync, house after nearby house will need a new roof, a replacement HVAC system, and perhaps a fresh coat of paint. Area home improvement companies that have serviced these homes can conduct geolocation analysis on their order history to recognize such a cluster occurrence of similar needs beginning. They can then logically assume that other homeowners in the area will also be looking for such services in the near future. That insight allows the service provider to hyper-target their marketing investments instead of blanketing a much larger area in hopes of new business.
Another example is a B2B service provider of professional services utilizing data analysis to note that often client companies of a similar transition in size upgrade their service plan or perhaps leave for a provider they perceive as more suited to larger organizations. This awareness empowers the service provider to proactively reach out to clients that they identify as nearing this common transitional point of growth. Not only might they realize increased revenue earlier than normal from some clients but they may also succeed in preventing some from leaving.
It takes intentional data collection, analysis, and action to perform these feats of predictive opportunity engagement.
Take (proactive) action!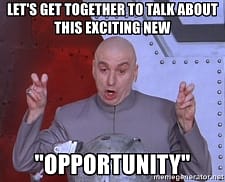 Creatively brainstorm ideas for how your business products and services can be extended. This can include multiplying servicing plan options, adding valuable benefits to premium offerings, or repackaging existing products as upsell add-ons. Critical to this step is allowing every idea to be considered free of initial bias as to what might or might not work because of what it would take to implement. Allow the seed of thought a chance to germinate. Maybe it will be nothing. Or, it may give birth to an alternative idea that otherwise would not have been considered at all.
Conduct analysis of existing KPIs or other data metrics across customer records, order histories, return frequencies, support tickets, etc. Look for clusters in location and times, average durations, deviations, and any other patterns or exceptions to patterns. Opportunities may exist in either case whether the numbers are positive or negative. Often times, businesses that specialize in handling the outliers, the long tail of niche needs, are the ones that succeed the most.
Identify what potential metrics could individually or collectively prove whether or not a new opportunity exists. We'll refer to these as Key Opportunity Indicators or KOIs.
Craft data collection methods… tools and operational processes… for aggregating and monitoring opportunity assessments using the new KOIs.
Periodically reassess your KOIs for continued relevancy, degree of opportunity potential, and ongoing monitoring. Adjust as necessary.
---